Fire Restrictions and Park Closures—Effective: August 12, 2021
Washington State Parks
Fire Restrictions and Park Closures—Effective August 12, 20201
Washington State Parks is working with the Washington State Department of Natural Resources to identify wildfire high-risk areas and taking steps to mitigate those risks while closely coordinating with the Washington Department of Fish and Wildlife and the Governor's Office on closure planning.
Efforts are focused on high-risk/low-impact areas–all of which are currently in eastern Washington. At this time, most closures involve a portion of a state park and/or recreation area- for example, trails within a park. Please have a look at the list of park closures shown below. This list will be updated as circumstances change–please visit Washington State Park's Wildfire Information webpage.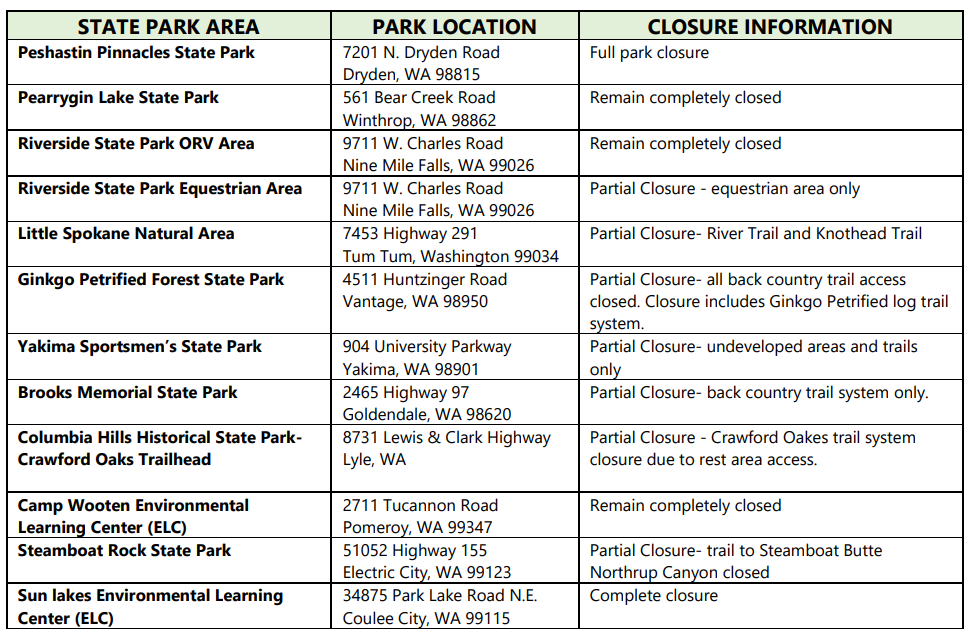 The Washington State Parks Office is also preparing to take additional steps in coordination with their partners and as circumstances warrant, including the complete closure of select state park day-use areas and dispersed camping areas. State Parks is still working out the details but they are committed to keeping you updated on these efforts and what to anticipate as things change and progress.
State Parks- Fire Coordination Contacts
Ryan Layton, Eastern Region Manager | ph. 509.665.4313 | [email protected]
Mike Sternback, Assistant Director- Operations | [email protected]
---
Share this post: