2020 Success Story: Outdoors for All - Bikes to You
Adapting Outdoor Recreation
A Message from Ed Bronsdon, Executive Director, Outdoors for All Foundation
In a world turned upside down by the pandemic, many people are struggling to connect with others, get exercise, and find ways to increase their mental and physical fitness. The Outdoors for All Foundation is a Seattle Seahawks Spirit of 12 program charity that continues to help people with disabilities to adapt and enrich their lives despite the pandemic.
The Outdoors for All Foundation was founded as a nonprofit in Seattle in 1979, teaching adaptive skiing to children with disabilities. Outdoors for All's mission is to enrich the quality of life for children and adults with disabilities through outdoor recreation. Each year, thousands of individuals with disabilities and their families are active outdoors through adaptive skiing, kayaking, cycling, rock climbing, and other activities.
Earlier this year, the ongoing pandemic disrupted many of the adaptive recreation programs that Outdoors for All traditionally offers. However, thanks to the support of private donations and funding from the Seahawks Spirit of 12 program, Outdoors for All has been able to adapt and still reach out to individuals with disabilities and their families with new and innovative programs.
The newly launched Bikes to You program is one example. Instead of having participants and their families coming to Outdoors for All to ride an adaptive handcycle or adaptive tandem bike, Outdoors for All delivers these adaptive cycles to the homes of individuals with disabilities to rent and use free of charge.
Here are just some of the responses received from individuals and families involved in Outdoors for All's Bikes to You program:
"Our son loved riding the hand-pedal bike. He had a blast riding on a bike trail with his brother in law skateboarding beside him." Cindy Locke, parent
 "Phin was able to ride on his own and pedal his way around. [I would] absolutely recommend the program to others. The bike was brought to my home and picked up at the end of the rental – a great convenience." Anavi Clark, parent of Phin
"Luke LOVED riding the bike!  He was very happy and felt independent." Sara Eizen, mother of Luke 
"We just love the outdoors -- and we now can be together as a family outdoors." Silviana Joyce, mother of Daniel
"Outdoors for All's mission is all about adapting outdoor recreation with expertise, specialized equipment, and ingenuity to help individuals with disabilities to be active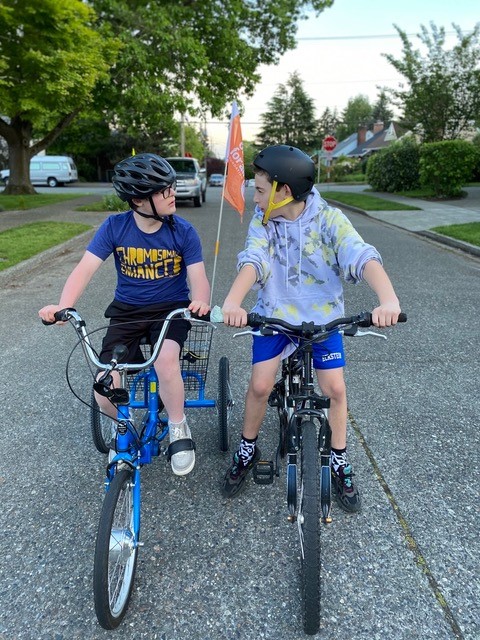 outdoors," said executive director Ed Bronsdon. "The pandemic has disrupted so many things in all of our lives. What it hasn't disrupted, though, is the dedication of our expert staff and our many volunteers. Together, our team is working to decrease social isolation, increase physical fitness and mental fitness -- and just plain focus on fun for kids with disabilities and their families! We're incredibly thankful for our partnership with the Paul G. Allen Foundation and the Seattle Seahawks Spirit of 12 Program," Bronsdon said.
To get involved with Outdoors for All as a participant with a disability or volunteer, or for more information, visit: www.outdoorsforall.org
Ed Bronsdon, Executive Director
Outdoors for All Foundation
---
Call for Local Success Stories
WRPA wants to share your 2020 successes!
If you have a particular story you would like to share and celebrate please send it to [email protected] to be considered for publication on the WRPA blog and in the WRPAToday Bi-Monthly Newsletter. We know 2020 was a tough year and that many parks and recreation departments have been stretched thin, but we are so proud of how hard those in our profession are working to make this pandemic a little easier for our communities.
Share this post: